A more detailed description of this book, including bios of the authors and a whole spate of excellent reviews can be found at
Exploring Lost Hawaii: Places of Power, History, Mystery and Magic website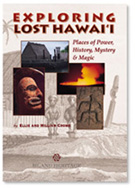 Exploring Lost Hawai'i
Places of Power, History, Mystery and Magic.
Written by Ellie Crowe and photographed by William Crowe, with additional images from the Hawai'i State Archives
Softcover, 7" x 10". 211 pages.
Journey into Hawai'i's fascinating "secret" places of spiritual and cultural significance. Maps to sites are included. A unique guidebook that provides a tour of Hawai'i never seen by most visitors-and even many locals.
$16.99, #24248-000.
To order autographed copy of this book click here.
Click here to go back to Ellie's home page Home Page