Surfer of the Century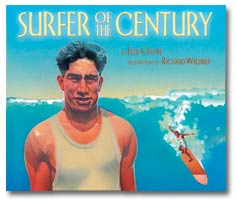 SURFER OF THE CENTURY

Right click to open in a new window publisher's webpage and description of this book here
LEE & LOW; 54 PAGES; $18.95; AGES 7-11
About the Book
Growing up in Honolulu with the Pacific Ocean as his backyard, Duke Kahanamoku learned to swim and surf at a young age. By his early twenties, Duke's lightning-fast swimming won him a place on the 1912 United States Olympic team and a gold medal in the 100-meter freestyle race. Over the years Duke struggled with racism and financial troubles, but by the end of his twenty-year Olympic career, he was a six-time medal winner.

Although a swimming champion, Duke's passion was surfing. He traveled the world, introducing surfboarding to Australia and the east and west coasts of the United States. Considered the father of modern surfing, Duke spread his love of the ocean and Hawai'i wherever he went.

Throughout his life Duke Kahanamoku was beloved for his modesty, sportsmanship, and amazing skill in the water. Today he remains a legendary waterman and an inspiration to all to live life with aloha.

aloha: love, kindness, grace, affection, compassion; also traditional Hawaiian greeting or farewell


Reviews of Surfer of the Century
"Starred Review," SCHOOL LIBRARY JOURNAL
"This picture-book biography celebrates the life of champion swimmer and surfer. The athlete's life spanned a key period in Hawaii as it grew from a sleepy rural backwater to a tourist mecca. Kahanamoku grew up in and on the water in his hometown of Waikiki. His natural swimming abilities soon attracted a coach, and he began to train for the 1912 Olympics. In a race in August, 1911, he shattered swim records, but the Amateur Athlete Union would not recognize his accomplishment because it found his times too amazing to be believed. Nonetheless, he earned the right to compete in the Olympics where he won gold and became friends with Jim Thorpe. Kahanamoku also did much to popularize the sport of surfing through his travels and his later career. This appreciative biography does a fine job of summarizing his accomplishments. Crowe depicts his encounters with racial discrimination with sensitivity, underscoring the courage and character he developed to face these setbacks. The text is concise and readable, ably supported by Waldrep's full-page color art on every spread. These vibrant, action-filled illustrations, reminiscent of old-fashioned travel postcards, add much to the book's overall appeal. Well researched and fact-filled, this book will appeal to a wide audience of general readers." —"Starred Review," SCHOOL LIBRARY JOURNAL

—BOOKLIST
This strikingly illustrated picture-book biography celebrates Duke Kahanamoku, who broke records as an Olympic swimmer and introduced surfing around the globe. Crowe begins in 1917 with an exciting account of 27-year-old Kahanamoku's nearly two-mile ride on a giant wave.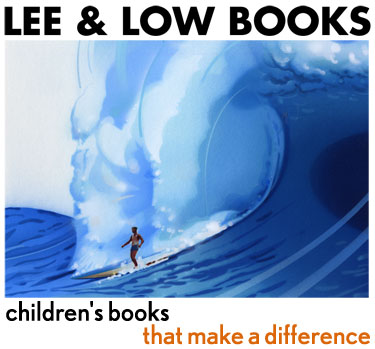 " Subsequent spreads hark back to Kahanamoku's early years, when he lived across the road from Waikiki Beach, through swimming training that earned him Olympic gold and worldwide fame . . . dramatic colored-pencil-and-gouache artwork enhances the sense of Kahanamoku's iconic persona in glossy stylized images of the muscled athlete charging through sparkling waters. A welcome introduction to a groundbreaking figure rarely covered in books for youth.

—The BLOOMSBURY REVIEW- EDITOR'S FAVORITES OF 2007

"An inspiring, poignant biography of the legendary surfer Duke Kahanamoku, who was also the fastest swimmer in the world for 16 years! In spite of his championships, Kahanamoku still faced prejudice, because of his darker Hawaiian American skin, yet he managed to graciously triumph over countless obstacles to become a bonafide legend."


—KIRKUS REVIEWS

"'In school Duke struggled with his lessons, but in the ocean he was a star.' Duke Paoa Kahanamoku (b. 1890), father of modern surfing, who dropped out of high school and battled racism, politics and financial difficulties on his course to becoming a gold- and silver-medal–winning Olympic swimmer, knew a thing or two about making adjustments and living with aloha (love, peace and compassion). Waldrep's stunning Art Deco–style airbrush illustrations complement this rich picture of the life of the man who began his life as a humble beach boy and ended it as the equally humble State of Hawai'i Ambassador of Aloha. A lovely visual rhythm is created as the text background alternates between hues of blue (ocean-, pool- and sky-) and shades of sandy beige, pulled directly from the impressive artwork opposite. This harmony in the art is matched in the text, a warm and admiring narrative of a fine American athlete and role model readers may not know. The author, an award-winning subject specialist on Hawai'i, its customs and culture, includes acknowledgements and citations on the verso.


—THE HORN BOOK GUIDE

Outside of Hawai'i and the surfing world, few know the name Duke Kahanamoku, but Crowe's respectful picture-book biography brings to light a seminal figure in the history of surfing and Olympic swimming. A participant in four Olympic Games (1912, 1920, 1924, and 1932), Duke overcame racism, inhospitable conditions, and a lack of funding and sponsorship to become a three-time gold medalist for the United States. Crowe chooses not to make the racism the focus of Duke's story but shows through understatement the huge emotional impact discrimination had on the native Hawaiian swimmer. What emerges is a portrait of a man whose humility, good nature, and hard work allowed him to forge a path of success despite a background completely lacking in privilege. Crowe also defines Duke as an innovator who broke Olympic speed records, introduced surfing to Australia, and increased surfing's popularity around the world. . . . overall, the book is an inspiring and absorbing account. Waldrep's paintings convey both dignity and dynamism, with ocean scenes hurtling from pages awash in sunlight."


Sacramento Bee October 14, 2007 review
"In 1917 off the coast of Honolulu, Duke Kahanamoku road [sic] a Bluebird wave for almost two miles. Few surfers dare to ride these 30-foot monsters as they roll in after unusual events, such as underwater earthquakes. But Kahanamoku had no fear. He grew up with Waikiki in his backyard. How he became an extraordinary surfer - he's known as the father of modern surfing - and a five-time Olympic swimming champion are part of the heart-pounding drama Ellie Crowe builds in her substantial picture-book biography, Surfer of the Century.

It's an intense, emotional story of a champion who had to overcome racism and doubters. In his first race against nationally ranked swimmers from the mainland, Kahanamoku had times so good - he beat a world record by nearly 4.6 seconds - that officials in New York refused to believe them. Nevertheless, they invited him to try out for the 1912 Olympic team.

Even though Kahanamoku won many medals and earned international fame for swimming, his true love was surfing. Among his contributions to water safety is using surfboards for water rescues. He did it first on a stormy day in 1925, when he pulled eight fishermen to safety after their boat capsized off the coast of southern California, where he had relocated.

Crowe's well-paced presentation will draw young readers into the thrilling life of a modest champion who pioneered more than a sport's popularity and lived by the loving creed of aloha. In 1999, Surfer magazine named Kahanamoku Surfer of the Century."

Asian American Press, St. Paul, Minn. -Building community within diversity - review
Click here to see this review Asian American Press review
Honolulu Advertiser review Nov. 4, 2007
Click here to see this review Taking a new look at Duke

San Francisco Chronicle review Nov. 18, 2007
Click here to see this review Children's Biography


Flat gouache paintings, reminiscent of old Hawaiian travel posters, help document the fitful trajectory of a Waikiki boy to international fame in this welcome picture biography. As an Olympic swimmer and champion surfer, Kahanamoku works hard at sport and sportsmanship, especially when feeling the sting of discrimination.
Rutgers University Project on Economics and Children review Nov. 2007
Click here to see this review Concepts: human resources, discrimination, scarcity


Summary: Duke Kahanamoku, widely regarded as the person who spread the popularity of modern surfing, also won six Olympic medals over the course of swimming career.
This fascinating book tells the story of Duke's upbringing on the Hawaiian island of O'ahu and his quick progression up the ranks to become Hawaii's fastest young swimmer and later an Olympic champion.
He also promoted the sport of surfing, which was previously only known in Hawaii, in Australia and the United States, and he introduced the idea of using surfboards for rescue and lifeguard operations.

Woven throughout the interesting biographical account are powerful economics lessons related to scarcity and discrimination.
Financial constraints and barriers associated with racism contributed to the challenges that Duke faced in his quest to compete internationally and become the "fastest swimmer in the world."
Honolulu Star Bulletin review Dec. 4, 2007
Click here to see this review Book on Duke goes national


To go back to the home page click here Home Page