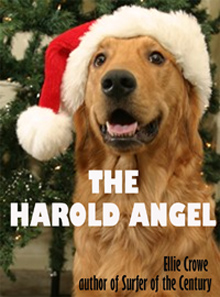 The Harold Angel
Written by Ellie Crowe

Harold, a shaggy-haired golden retriever, loves his family. He wants to make them happy.
He wants to be a good dog. When he hears the children singing Hark the Herald Angels, Harold hears his name and thinks his wishes have all come true.
The children are singing about him! They're calling him THE HAROLD ANGEL! Now he can sleep in the dad's bed and share the Christmas turkey! But Harold is making a bit of a mistake ...

To Buy this Book online at Amazon for Kindle click Buy Book for only $ 2.99
Reviews
5.0 out of 5 stars funny and cute, August 23, 2011
By
Love to read (United States) -
This review is from: The Harold Angel (Kindle Edition)
This is such a good book! It really cracked me and my son up! Even after my son went to bed, I kept reading it. It's about a dog's reactions to life around him. Really hilarious. I love the part about the garbage man. It's just a short book- something good to read to your child before bed for 2-3 nights in a row.

5.0 out of 5 stars Laugh out loud funny, August 20, 2011
By
AE (Kailua, Hawaii USA) - See all my reviews
This review is from: The Harold Angel (Kindle Edition)
Delightful! A dog's perspective of family goings-on at Christmas. Wonderful to read aloud with young children, especially over the holidays.

Product Details
* Format: Kindle Edition
* File Size: 90 KB
* Publisher: Regent Media Productions LLC (August 15, 2011)
* Sold by: Amazon Digital Services
* Language: English
* ASIN: B005HFKE3Q
* Lending: Enabled
* Average Customer Review: 5.0 out of 5 stars See all reviews (2 customer reviews)
* Amazon Best Sellers Rank: #288,218 Paid in Kindle Store (See Top 100 Paid in Kindle Store) o #41 in Kindle Store > Kindle eBooks > Nonfiction > Advice & How-to > Parenting & Families > Parenting > School-Age Children LINKS eLibrary - Open Ebooks Directory - includes most of the ebooks sold on the internet. Free for addition of one's own ebooks.